A Pâtissier's Passion – Aminath Hameedh
'Be original. Make your final product a special piece of you.' – Ami
Well, the best decisions really are spontaneous. Ami was never the type of person who you would find chopping this and whipping that in the kitchen. Look where she is now; in the kitchen all the time! It all started some eight long years back with a random decision to join a cake-decorating course.

Aminath Hameedh, popularly known as Maldivian Patissier on Instagram, is a budding confiseur/pâtissier in the Maldives who is successfully making a name for herself in the hospitality industry. Not only that; she has a growing fan-base among locals too who admire her refined work. Ami shared her journey of falling in love with baking in an exclusive interview with Coral Glass.
All her life, Ami wanted to be an accountant. She joined work after A'levels but soon realized that work was not as fulfilling as she thought it will be. It was a set routine that did not spark any excitement for Ami. She felt like she had so much free time after work and needed to utilize it somehow. That is why when she came across a cake decorating course, she took it up immediately.
Ami didn't expect to get so involved with cake-making in a short period of time. At the time unlike now, not many bakers were out there providing such services. Soon after the course, all her free time was filling in with orders and things started getting hectic. Instead of feeling overwhelmed, Ami was actually loving it! She was enjoying what she got to do, decorating cakes to every client's personal requirements.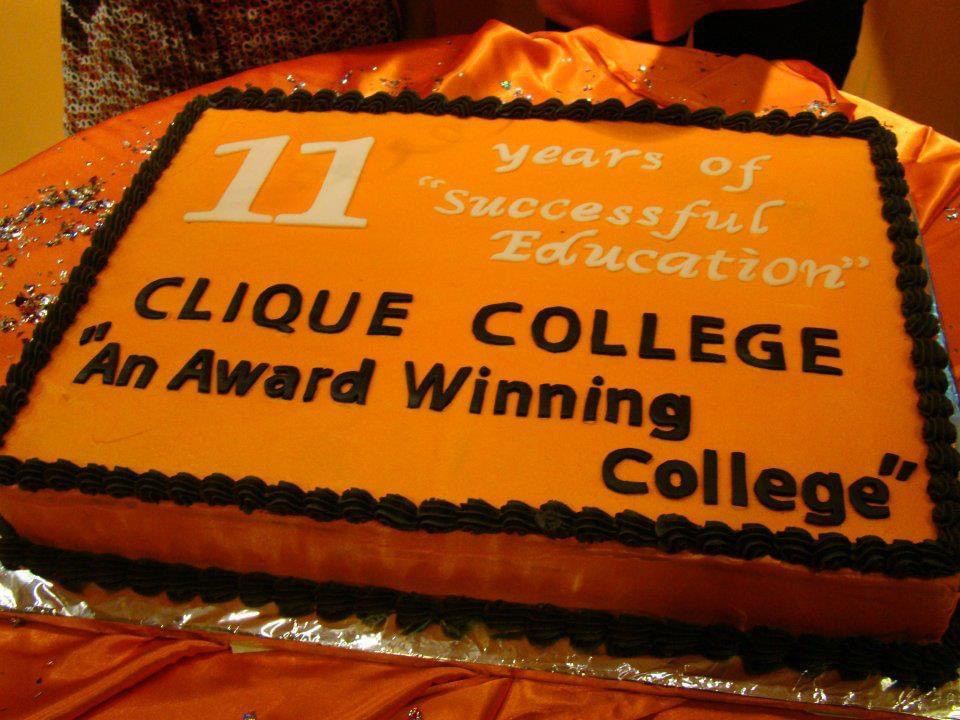 As business grew, Ami got more invested in the art which was now more that just a hobby. She went on to quit her job and bake fulltime. In addition to her growing interest in the many possibilities with baking, Ami started envision making a career out of it. She knew that if she was willing to experiment with opportunities, she can level up on her pastry making skills. Her first collaboration as a chef was in 2014 with Evo Home.
My Dish by Evo Home was a 30-episode show in which Ami participated alongside Chef Sivath. She made 30 desserts, 1 for each episode of the show. It was the first time she wore a chef's jacket and it hit jackpot. Ami knew this was what she was meant to do. Watching Chef Sivath around the kitchen table inspired Ami to one day become as flawless and smooth herself.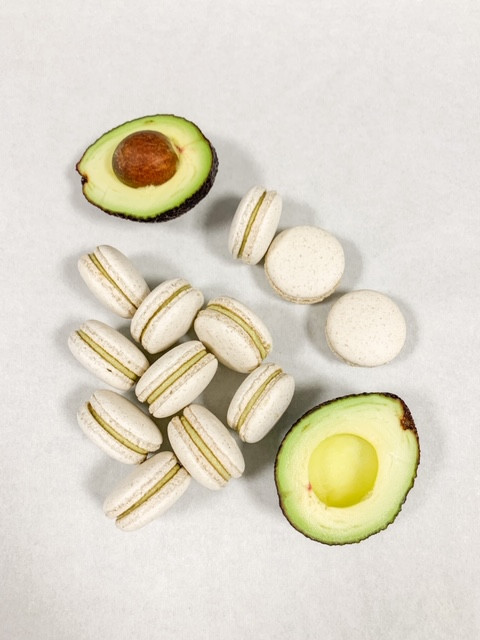 Ami believes that with a basic recipe, anyone can make a dish but in order to make it special and unique to you, one needs to learn the practicality behind the concept. After the show, she explored her options to specialize in pastry making however, there were almost no options available locally. Ami left to Sri Lanka to pursue her Diploma in Hospitality Management.
During her course, Ami took part in every competition that came her way. She thoroughly paid attention to learning from practice, making mistakes along the way but more importantly, improving on it the next time. One of the highlight competitions she competed in was the 17th Seoul International Bakery Contest in South Korea – an opportunity extended through college. The course was in affiliation with an Australian college so Ami also got the opportunity to train in Australia.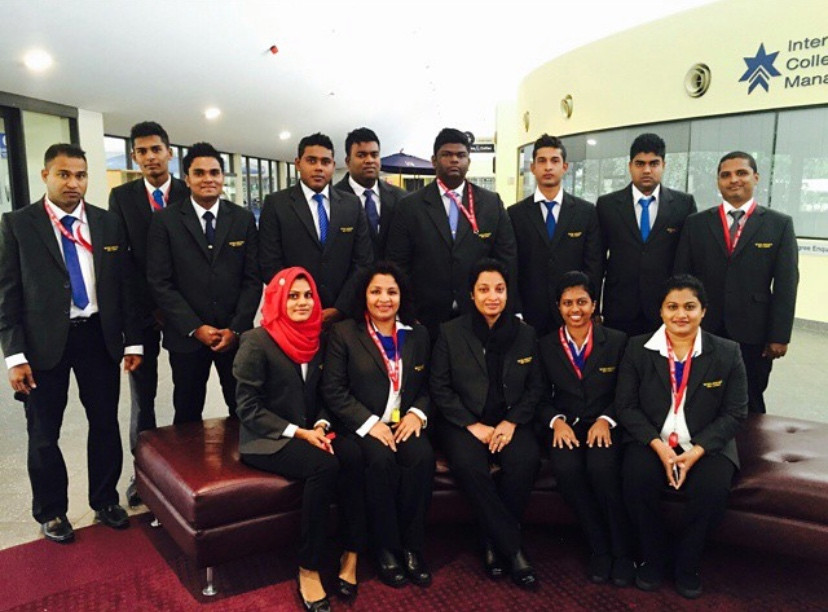 Taking masterclasses is one of Ami's favorite learning techniques even today. She tries to incorporate it into her travels and adventures as well since indulging in different experiences leaves you with a broader world view. Most of her after class adventures were in Dolce Italia, Ami's favorite coffee shop in Sri Lanka. Ami had never munched on pastries and cakes yummier than those served in this Italian-owned café. Her first exposure to in-depth knowledge on French pastries was after she met the café owner and found out about Jeanne Pierre, the hands behind the pastries served in Dolce Italia.
Ami was overjoyed when Mr. Pierre offered to let her join his private masterclass in making pastries. He was a wise man with immense knowledge on the art of baking. Ami could work with him in his bakery at Dolce Italia and have private mentoring after work. More or less, it was an opportunity for unpaid internship with a bonus learning experience. It was perfectly timed with her graduation so Ami decided to take it on without further questions. She was the least bothered about doing free work rather, more excited to learn from an expert himself.
For the next 6 months, every day started with the smell of hot ovens baking pastries filling the air. Running around the bakery and handling manual work kept Ami busy on her feet all day. In the evenings, one-on-one class hour was when Ami gets to sit and learn the basics of mixing ingredients together, discovering the science behind different techniques. Ami regards this experience as a major milestone in her career; a path of stepping stones leading her closer to her goals.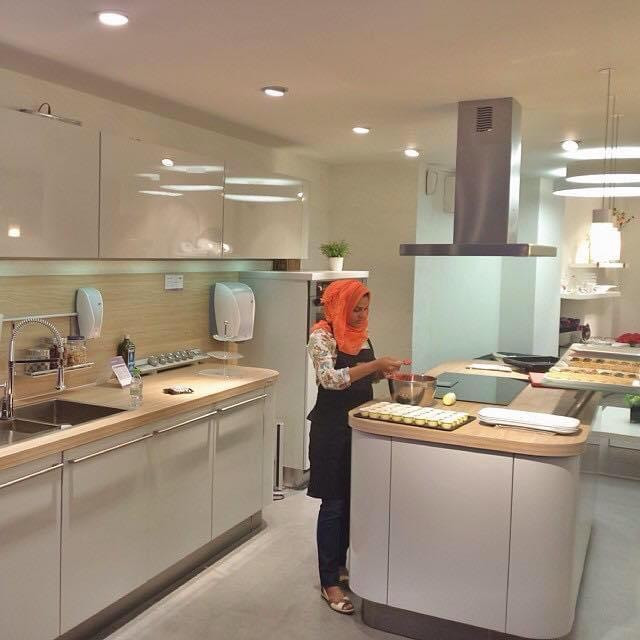 When Ami returned back to Malé, she was experienced and ready to kickstart with a job. Maldives has over 150 luxury resorts in operation scattered throughout the archipelago. How hard could it be to get placed? Very hard, mentioned Ami in our conversation. It was a surprise to her too because all of her applications, even as a line staff, were going unanswered.
It would be accurate to label Ami as a rebel of her time with her announcement of wanting to work in the Maldivian hospitality industry as a chef. Close friends and family questioned the opportunities she had; would she be working in HIH? Hotel Jen? Ami boldly told them that her target was working in a resort and was responded with gasps, doubts, arguments. The base of it was that she is a girl and it would be unsafe to work independently away from home. Ami does not agree. Being a girl is not reason enough to anchor your dreams and goals. A girl is free to work anywhere the opportunity is presented, without fear or doubt. Ami stuck to her decision and is glad she did.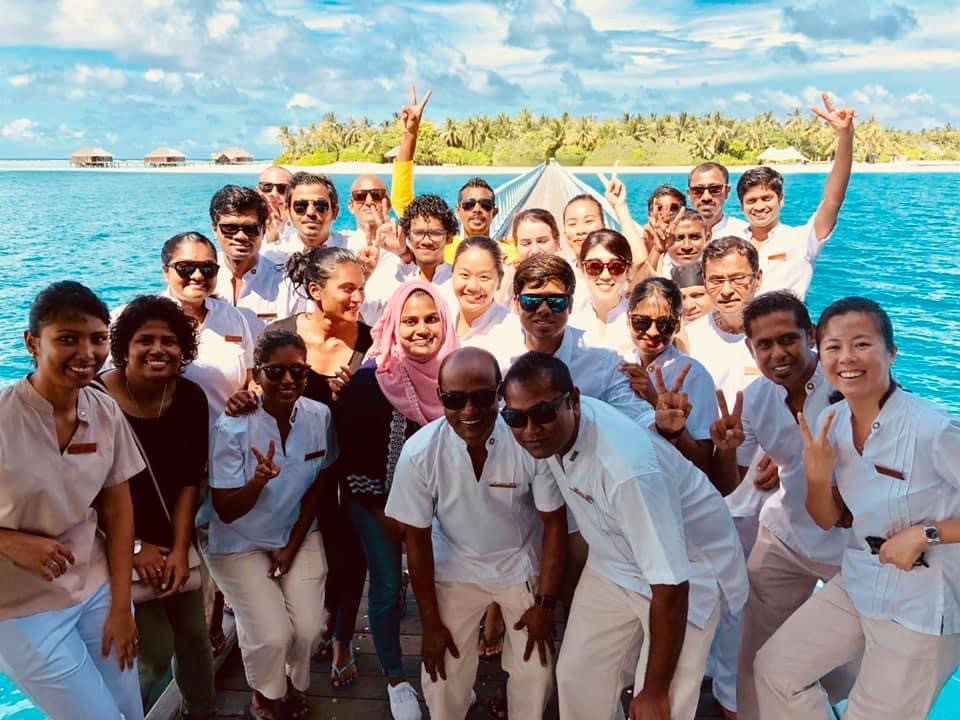 Near Halloween, her luck took her to Conrad Maldives Rangali Island. Ami finally landed a 6-month internship in a resort. It began with the bar already set sky high for the festive season. Cakes, breads, chocolates, treats and many more were rolling out of the kitchen one by one. In Ami's words, how days and nights went by were beyond comprehension. Yes, sounds chaotic but for Ami it was the frenzy of her dreams; her true calling.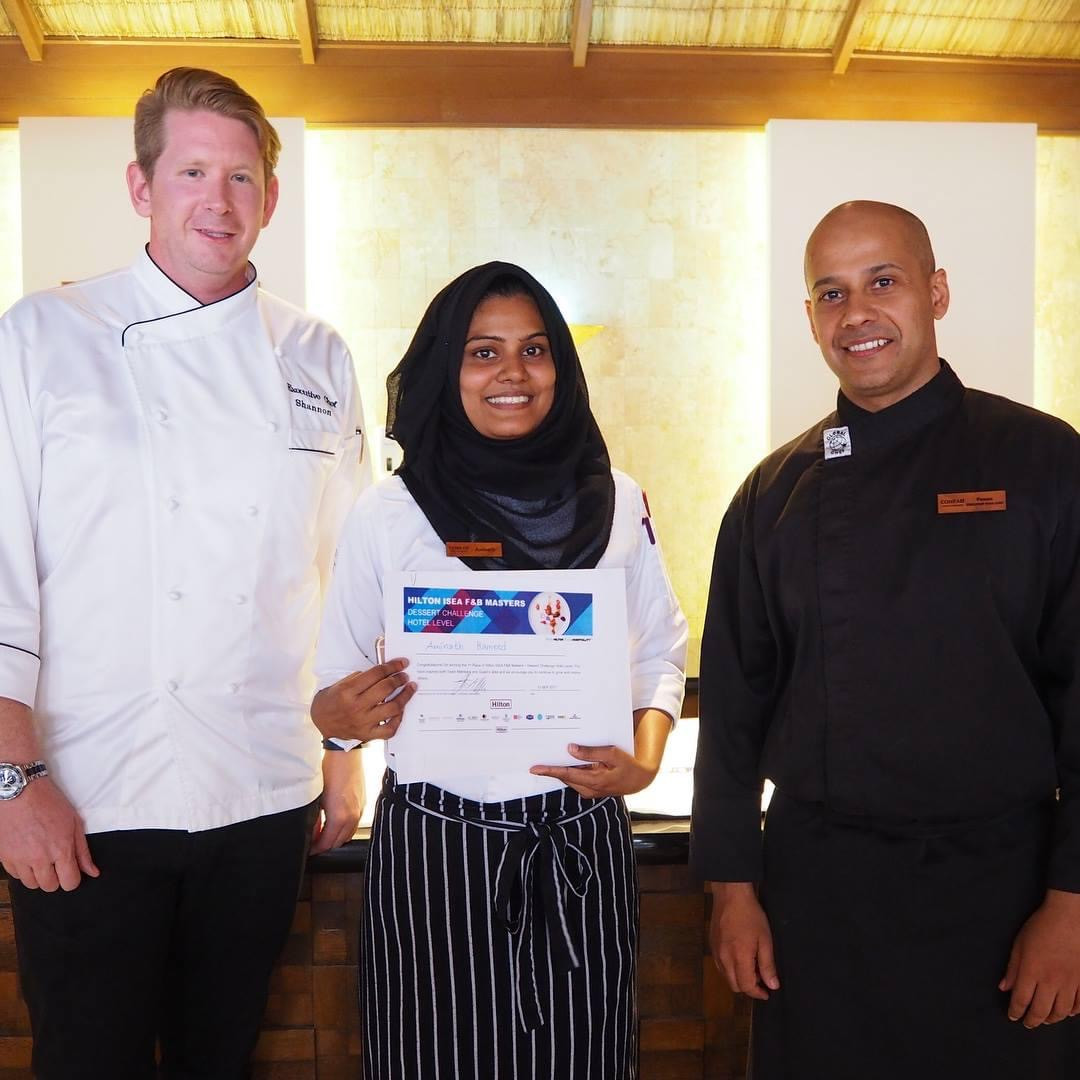 Ami was promoted to a Commis-I in the second month of her internship. The next 2 years were full of new learning experiences with the resort. Afterwards, she moved to Waldorf Astoria Maldives Ithaafushi Resort, one of Hilton's most luxurious collection's exclusive resort in the Maldives. Being a part of the resort's preopening kitchen team was something close to a wish being granted for Ami.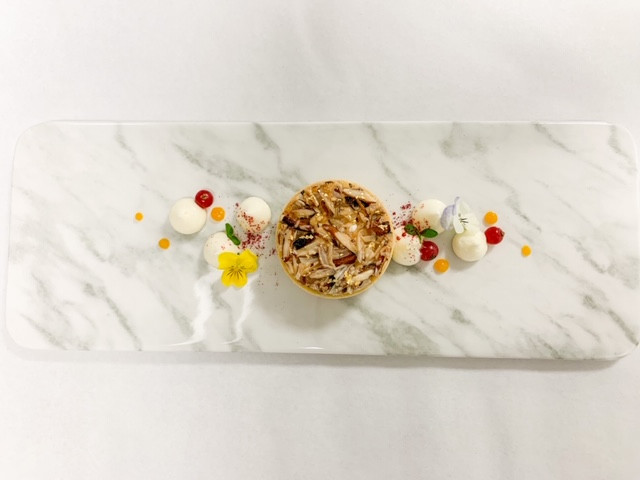 WAMI was the beginning of Ami's journey as a chocolatier. She was second to join the team with the chef who asked her to pick a section of her choice in the bakery. Ami had no previous experience or knowledge as a chocolatier hence, she decided to take on a new challenge. Training under the lead chef, she became a professional chocolatier, someone who is specialized in making chocolate from scratch. Can you imagine how satisfying it will be, being able to do that?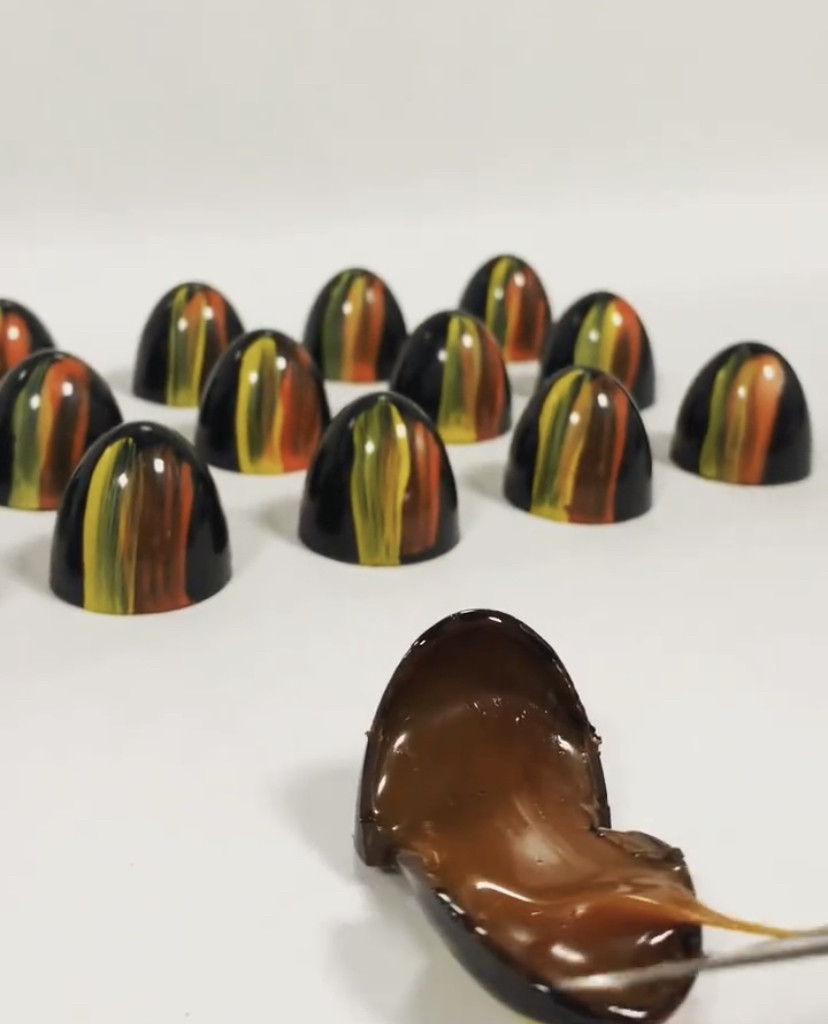 The resort boasts over 20 different varieties of chocolate ranging from 100% up to 28% concentration, a privileged collection among luxury resorts in the Maldives. These chocolates are used to curate special treats such as bonbons and pralines for guests dining in the treehouse restaurant, Terra. Ami's favorite part is how the experience in the resort serves a different flavor of homemade chocolate treats every night giving her the opportunity to work with ample ingredients and experiment to her heart's will.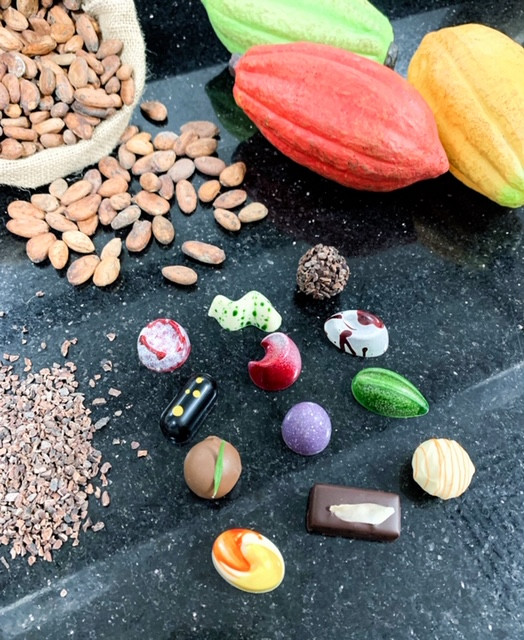 As a chocolatier, Ami's treats are the first amenities VVIP guests receive upon arrival in the resort. Since WAMI is a star-studded favorite, Ami has gotten the opportunity to present her productions to celebrities such as DJ Snake, Serena Williams, Alessandra Ambrosio, Shakira and Gerrard Piqué. It is an achievement for Ami to be complemented highly for her passion by personalities like them.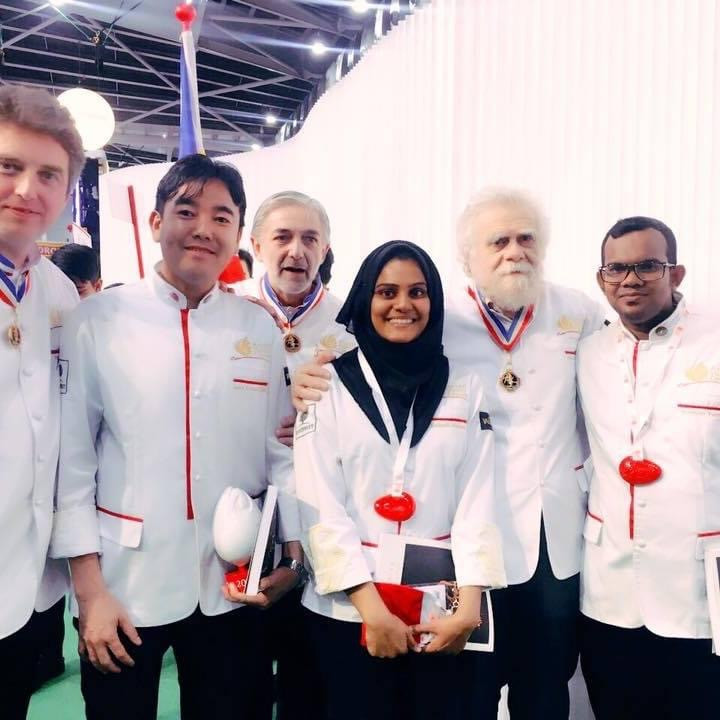 In 2018, Ami met with Hotel Asia's president who was telling her about how Maldives had never before participated in the Asian Pastry Cup. It is one of the most challenging and prestigious competitions in the Asian region where winners are given the opportunity to compete in the World Pastry Cup. He was sharing his concern about how there is no local talent that can go as far in Maldives. Ami felt aghast and contested saying that there are very talented Maldivian chefs who can give tough competition on international levels too. It was given they get the professional training that they need for such situations.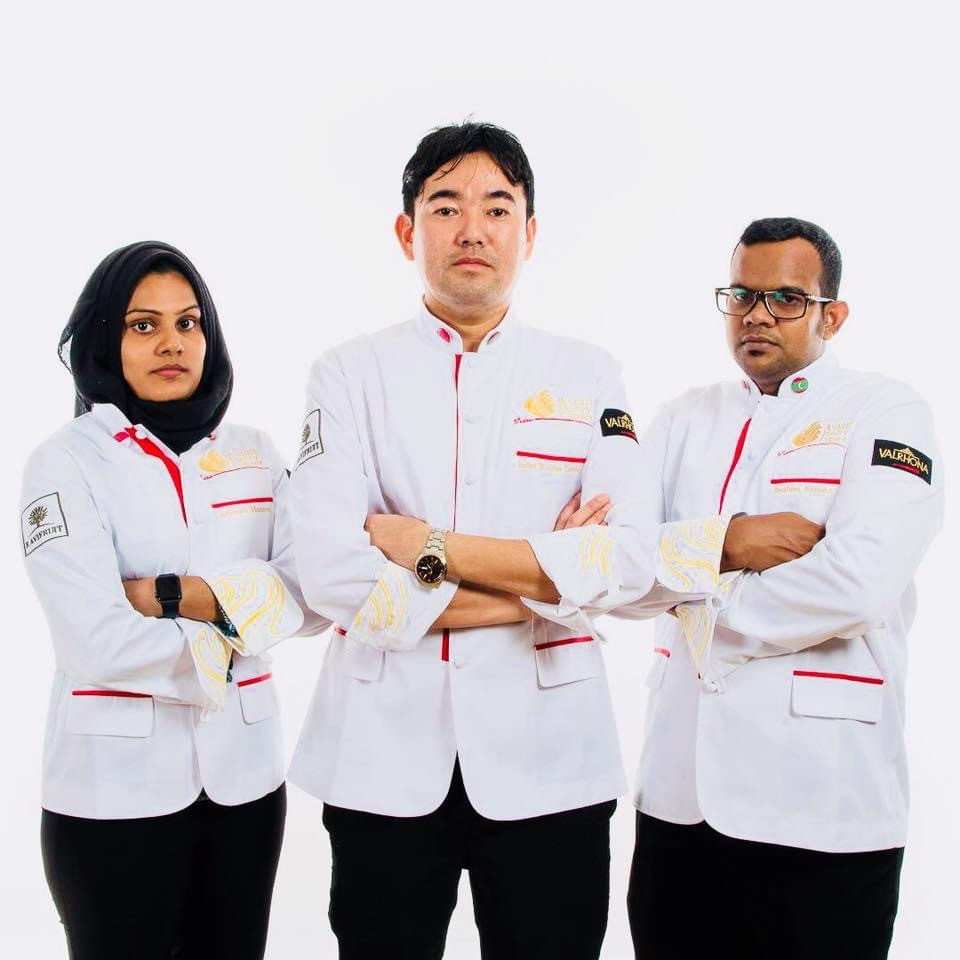 Ami's love for her work shone in her statement and she got the chance to compete in Asian Pastry Cup 2018 by FHA in Singapore. She teamed up with Chef Fareed from Soneva Fushi and trained in 3 months' time, learning the immaculate art of pulled sugar. The competition was the biggest challenge of Ami's life. Top-notch chefs from 9 countries competed head to head. Ami described them as if they had been training all their lives for the competition but she and her teammate weren't too far behind in the race. Their hard work won the title of the Most Promising Talent that year.
Returning home from a resort, Ami has nothing to complain about regarding her work environment. In fact, she feels safer working in a resort than living in Malé. Every single person on the island is a familiar face, a part of their big island family. Ami has never faced harassment or bullying at work in neither resorts she has been in. Maldives is a country built on hospitality and Ami says that people don't take enough advantage of the many opportunities available in the industry, specially girls. She encourages parents to trust their children to be disciplined for the resort life and pursue their careers enthusiastically.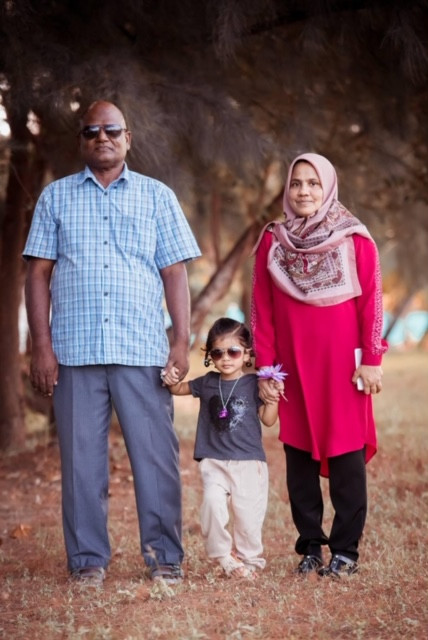 Hospitality industry is the biggest window open to the world in a small nation like Maldives. So, what is stopping you from exploring? Almost all the time, it is the parents. Students in culinary courses who come to know about Ami reach out to her on Instagram asking for advice on what to do after they graduate. They sadly explain how their parents hold them back from leaving the island. Ami personally reaches out to such parents and share her experiences, trying to make them understand that no better opportunity will come by.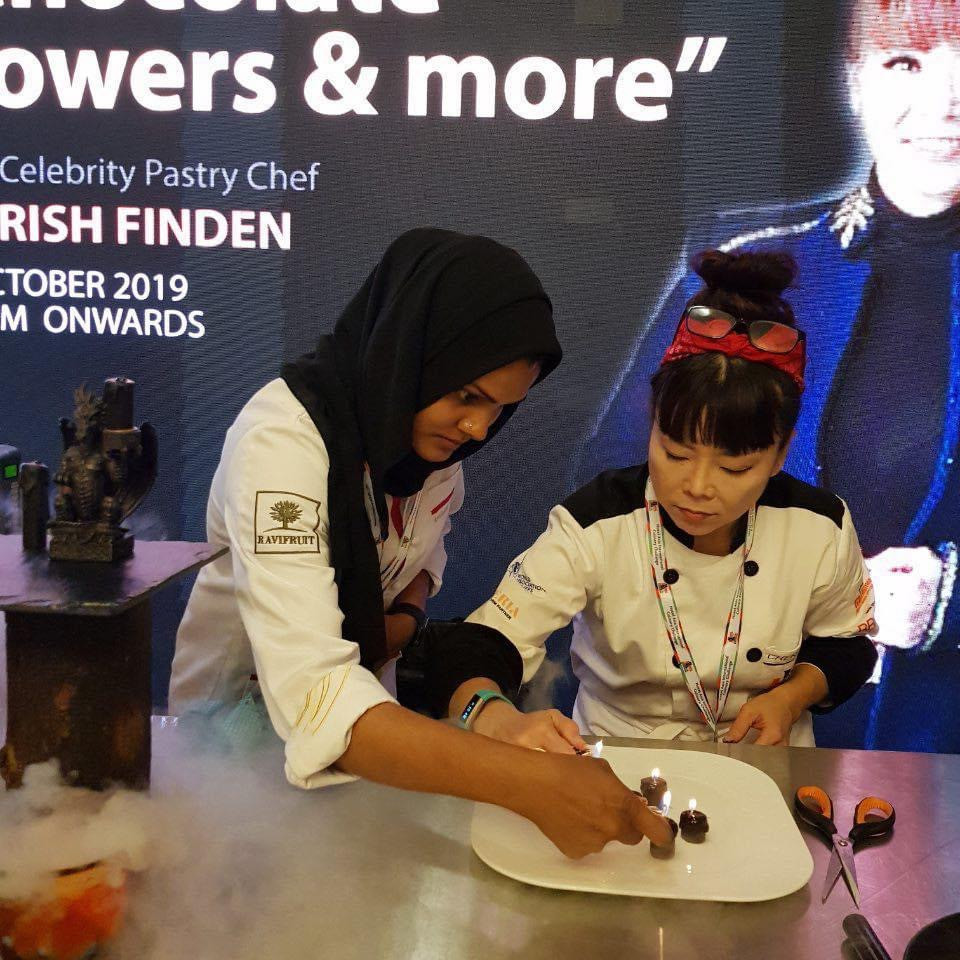 When the pandemic hit out of the blue in March and resorts stopped operation, Ami went to her home island in Addu. She was hoping to take a break during Ramazan and rest her feet but everyone at home were eager to get a taste of her yummy treats. Nothing beats the classic Chocolate cake, right? Amy said no! She boldly rejected all requests for classic cakes and played around professionally with locally available ingredients instead. She wanted to change the perspective of people towards using unusual ingredients in cakes and making something exceptional.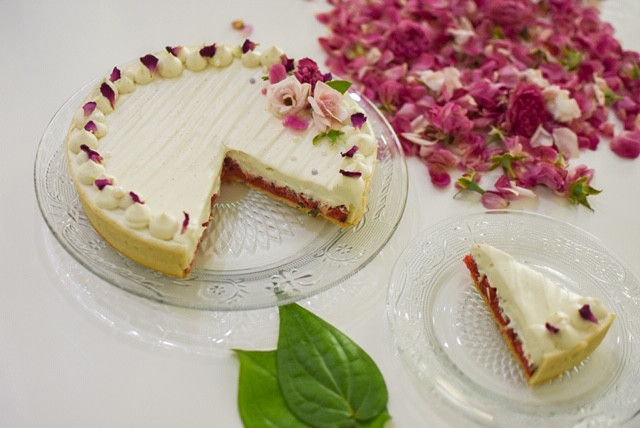 Mango, Moringa leaves, Pandan leaves, Roses, this is a list of just a few of the uncommon ingredients Ami played around with to introduce a whole new palette of cake flavors to her friends and family at home. Pretty soon, she was all booked for every day including over 250 cakes for Eid! Alll through her journey, her parents had been her strength and support allowing her to deliver her best work at every stage. She was glad her mission to make people curious about new flavors succeeded.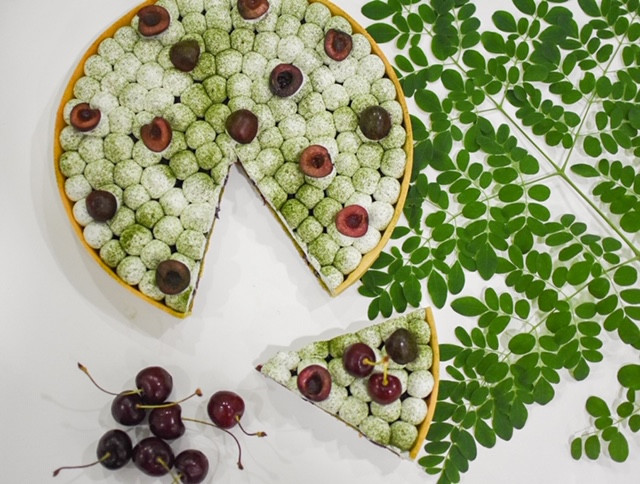 By the time news came about of resorts reopening, Ami was approached by many to teach them some of her magic tricks with a whisk. She gladly agreed because she had an inbuilt interest for sharing knowledge and teaching. Ami got over 50 responses to just a story update on Instagram asking for interested applicants to join a learning-to-bake class.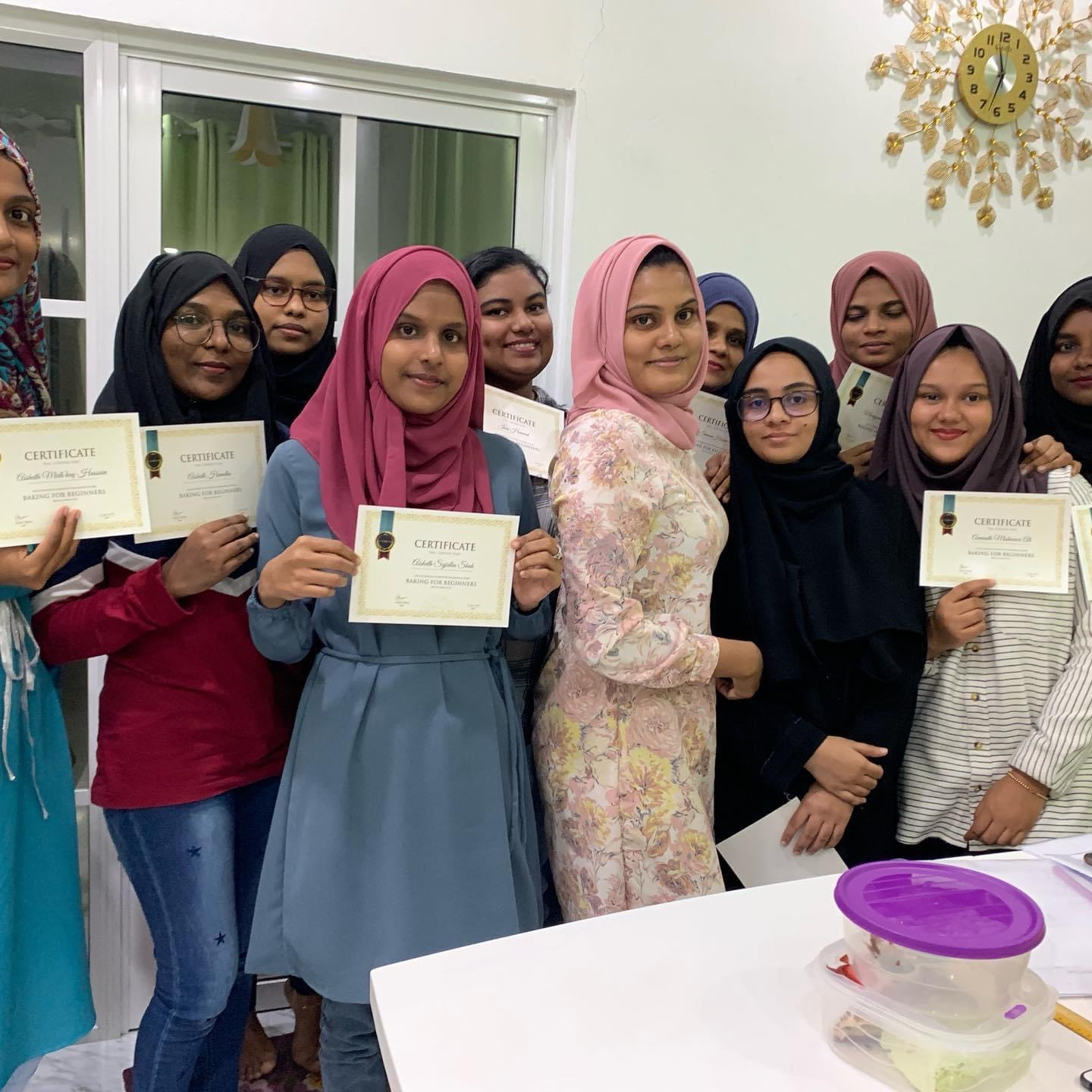 Ami concluded teaching the basics of baking to 4 batches of students. Baking is all about learning how to be able to twerk a recipe into making something completely new from it. She taught her students the effect each key ingredient had on the rest of the mixture so that if things don't turn out as expected, every baker would know where troubleshooting was needed. It makes Ami proud to see her graduates starting up their own baking businesses with the confidence gained from the course.
Right now, Instagram has been taken over by a baking storm. From cookies to brownies, tarts to cakes, everyone is baking something. It's a good thing, but Ami thinks it can be a better thing if you try to create something that represents you. Your passion, your interest, your taste, your take on it will make it stand out from the rest.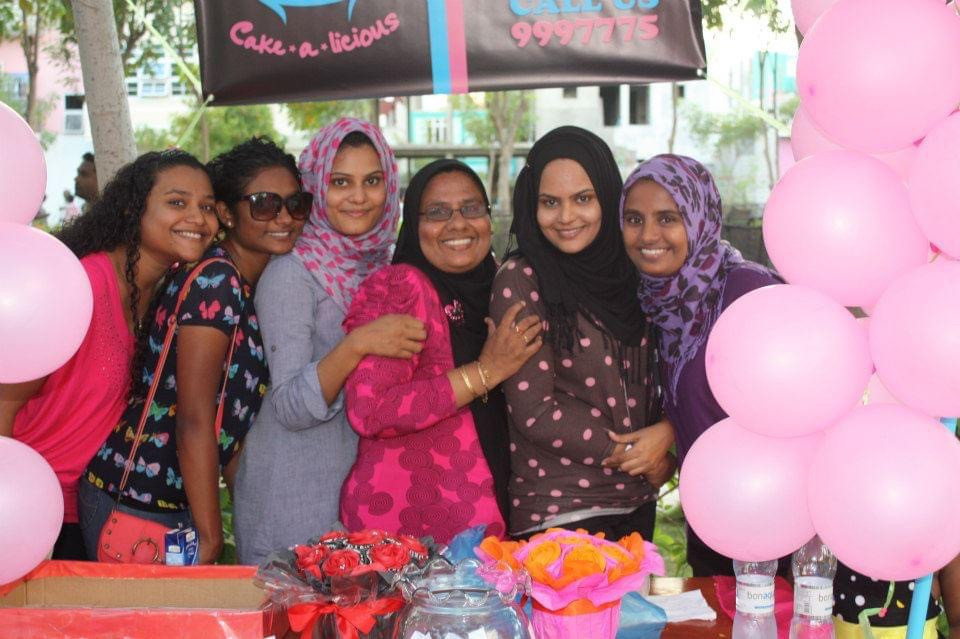 Ami is one of the rising female chefs in an industry largely dominated by males universally. Generally, taboo dictates that boys don't cook but finding a female chef in the culinary department can be difficult. However, a ray of hope kindles with more and more kids taking up the passion for baking seriously. Ami believes that in the next 5 years to come, the ratio can be 1:1 in the industry at this rate. There's something to look forward to!
Being a girl, Ami too has faced doubtful glances around the kitchen. Could she handle the heavy equipment? Will she get tired of being on her feet for more than half the day? Can she handle the madness? Well, Ami is a force to reckon with. She has proven every doubt wrong with her dedication to do better today than she did yesterday. Putting in just a little bit more effort is her mantra in order to keep reaching closer to her goals every day.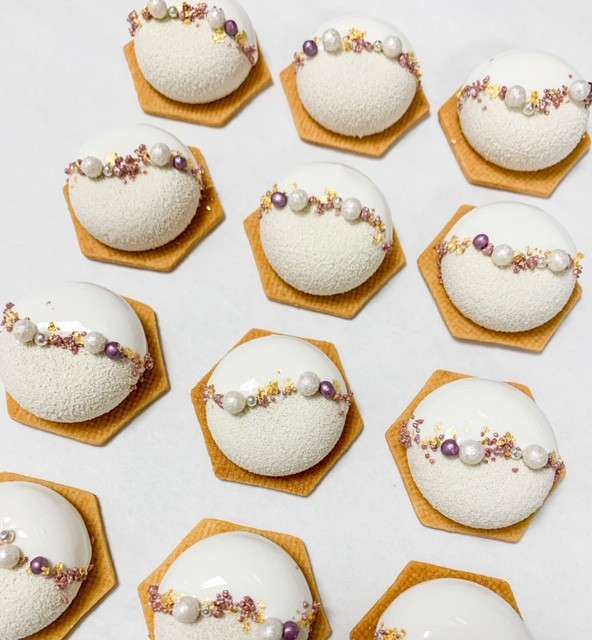 A baker finds inspiration in things that are creative and challenging at the same time. Ami looks up to award-winning Maldivian Chef, Mohamed Adil, and his unique creations to construct something as artistic, well-put and well-made herself. Her recent collaboration with Chef Adil for 4 Hands Dinner – A 7-course Menu at Salt Café & Restaurant was her one of her biggest honors. If she is still lucky, Ami hopes her luck takes her to meet Indian Chef, Vinesh Johny. He is an internationally recognized pastry expert who's work needs no introduction and makes Ami wish to learn from him one day.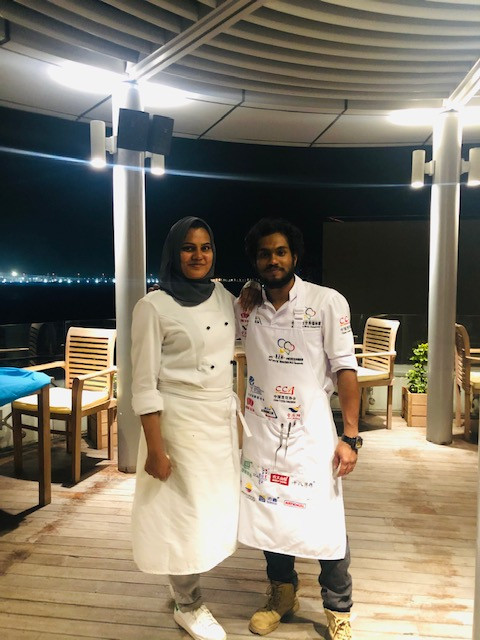 We asked Ami our favorite question of the interview – what would she be if not for a baker? She took a moment to think long and hard but could not come up with something unrelated to baking. Her teaching classes have given her the desire to spread her knowledge to every corner of the island nation and bring out hidden talents in the islands. She dreams of seeing more chefs baking at home, baking at restaurants, and leading the culinary industry internationally.
The biggest challenge Ami faced when starting out was the lack of educational opportunities locally to specialize as a Pastry Chef. She is ambitious to open a pastry school in Maldives someday. If you are passionate about baking and have a goal to reach the top, Ami assures you that opportunities are ample in the hospitality industry.
Ami's most valuable advice would be to start from the bottom ground. As a fresh graduate, one should not expect to lead a kitchen straight away. Instead, joining an apprentice program or internship in a resort can be a perfect opportunity. It is a head-start in learning from experts and discovering the know-hows of the industry first hand. Your dedication, passion, and hard work will pave the path forward.
Ami is fearless and bakes like her life depends on it. Are you ready to take on a baking challenge yourself?