Zayan – A Love for the Guitar
'I thought I was going to be a drummer. Turns out the guitar is my best friend.' Zayan gleefully told Coral Glass over coffee. We had an insightful conversation about his journey to becoming a beloved guitarist in the Maldivian music scene.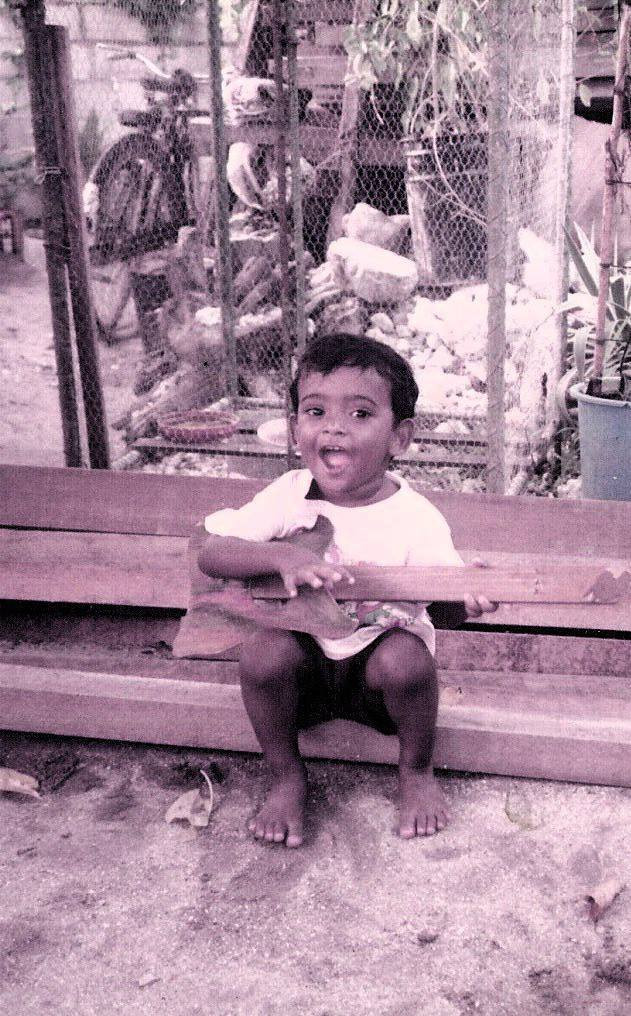 Zayan grew up as a big fan of music and dreamed of playing an instrument one day. His brothers had occasional jamming sessions with their friends and Zayan would watch, fascinated. The first sparks of interest in playing an instrument himself flew when he was in Dharumanvantha School.
Even as a kid, Zayan was always interested in creativity and extra-curricular activities in school more than theoretical lessons in class. He was a member of many Clubs, Art Club being his favorite. As a part of the club, a pop band was formed and Zayan found himself nodding to the beat of the drums whenever he heard the band perform. When the club started conducting classes to teach how to play musical instruments, Zayan got interested. One time, he took his turn on a set of drums just for fun. It turned out to be very enjoyable and he thought 'boduberu' was his thing at first but went on to discover his true calling not long after.
In 2009, mid-way through secondary school, Zayan moved to Sri Lanka. He wanted to continue practicing playing the drums but unfortunately, he didn't have access to a drum set nor a place set-up to contain the loudness of it. He did have the option to hire a studio though, but it exceeded a student's budget. Sadly, Zayan decided to give up drumming and find another hobby to pass his spare time.
His niece let him borrow an old acoustic guitar of hers which had a broken neck that was fixed with glue. Little did Zayan mind then, since he had never given any thought to becoming a guitarist at the time. He started picking on the strings that turned into his passion for life. Soon, Zayan was learning basic chords of one song after another. He jammed with friends often during recess hours in school. He had collected enough knowledge to manage a song by himself by the time he graduated.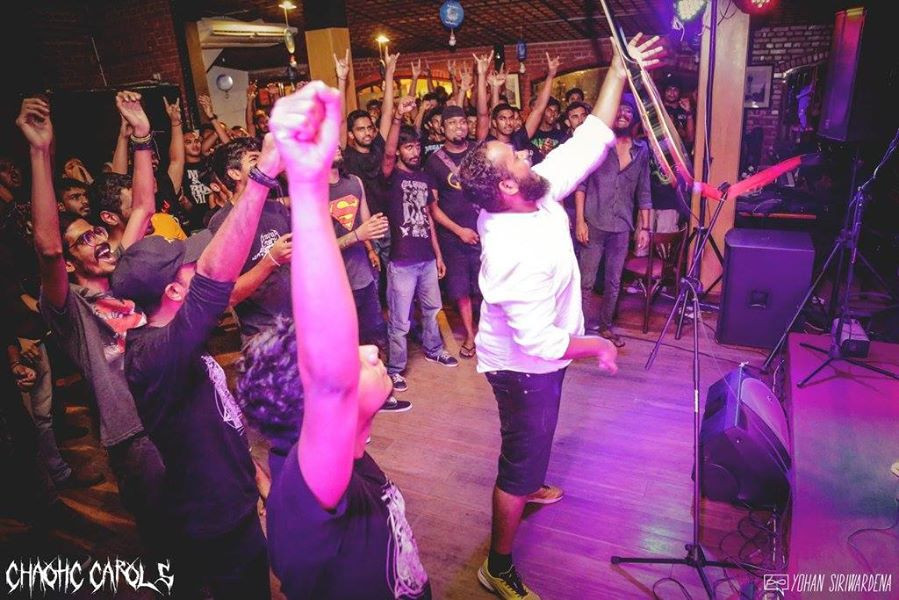 Zayan spent hours at a time practicing on the guitar. His first official band – Void Arcadium – was a lineup of friends that got together to jam and learn from each other. The band won the first ever show Zayan competed in; the Talent Hunt held by the Student Association of the Maldivian Ambassy in Sri Lanka in 2012. This was a big win for Zayan considering he had a long way to go in qualifying as a pro.
The following year, the band participated in another major show, Sounds of Maldives 2013. A number of artists took part in the show and a massive crowd gathered to cheer. It stands out as a focal point in Zayan's music career because this was when he realized that he had fallen in love with music. He decided to pursue music as a career and become a professional guitarist.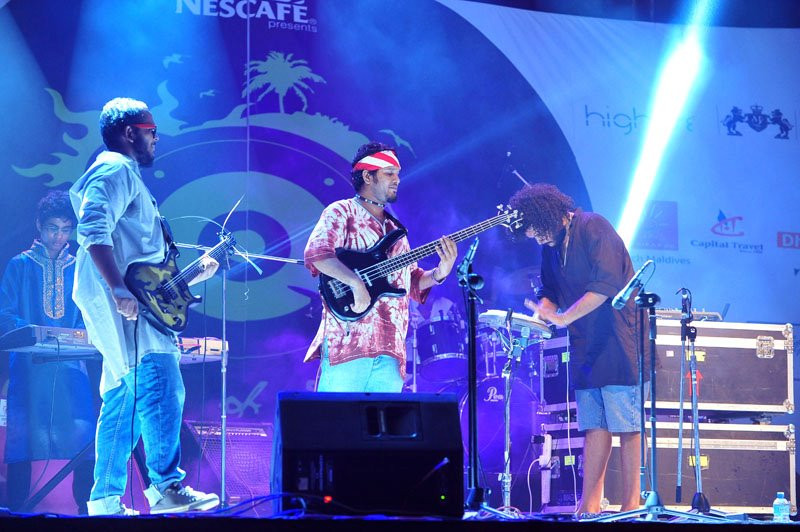 "The Sri Lankan music scene is very lively. I had many opportunities to play with different bands." - Zayan
Zayan did not own a guitar of his own yet. His friends would sportingly let him borrow their guitars and pedals for practice and performances. Zayan found it a lot easier to learn on electric guitars and he personally preferred them over acoustic ones. Having said that, Zayan also mentioned that it usually depends on the song and the scenario. Noticing his growing passion and skill as a guitarist, his brother gifted him his first guitar, a Fender Squier Startocaster. Zayan played many different genres on his guitar but occasionally, had to borrow different guitars that suited certain genres better than the Fender.
Zayan learnt a lot from his fellow Bassist Aathi and Guitarist Yaman at Void Arcadium. They saw him progress through the basic level on to being able to play solo pieces. Zayan's window to familiarizing with the Sri Lankan music scene came by when Yaman offered Zayan a chance to replace him in a gig with a Sri Lankan band. It led him on to making his own mark in the music scene after Void Arcadium split up. To his surprise, the crowd was immensely welcoming of new talents and Zayan fit right in. He started playing gigs in various establishments with different bands ended every performance showered in compliments. Zayan made plenty of new friends from the gigs and got huge exposure as well.
The next big show for Zayan was TNL Onstage in 2014, an annual music talent competition in Colombo organized by TNL Radio Network. Zayan was invited to the lineup of Revolt band by a friend to prepare for the competition. The band performed Rap Metal in front of an excited crowd and they reached the finals. Luck was not on their side when minor technical mistakes landed them in second place in the competition. However, Zayan regards it as a symbolic success and if given another chance, he would relive this memorable event as is.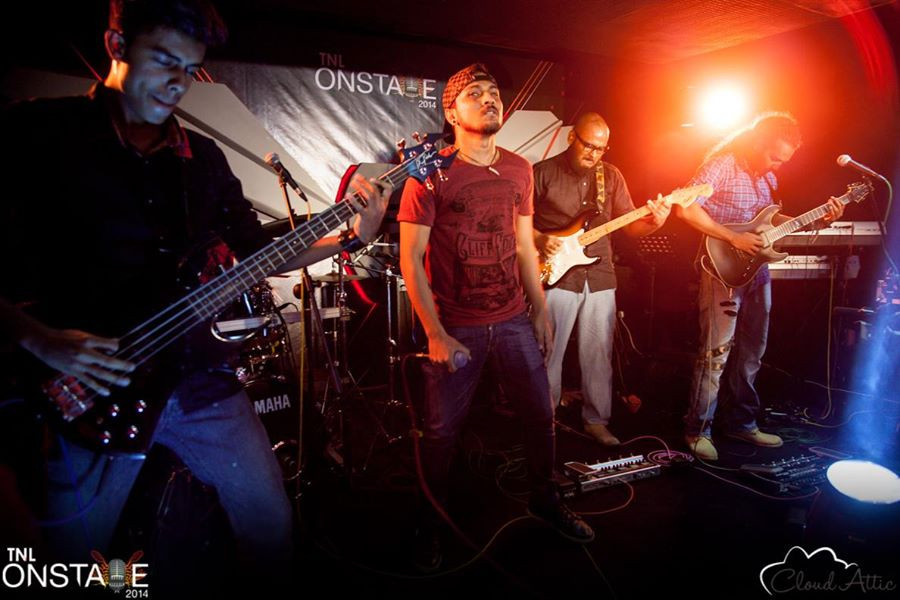 Revolt continued to play in several other significant shows later on. One of them was Ananda College's annual music event. Bands and artists from schools around the country participate in this highly regarded competition. At the music show following the event, Zayan got the privilege to share the stage with iconic Sri Lankan artists. It was his biggest honor to back the legendary Singhalese Rock artist, Indrachapa Liyanage in the presence of over 3,000 spectators – the biggest crowd Zayan has performed for.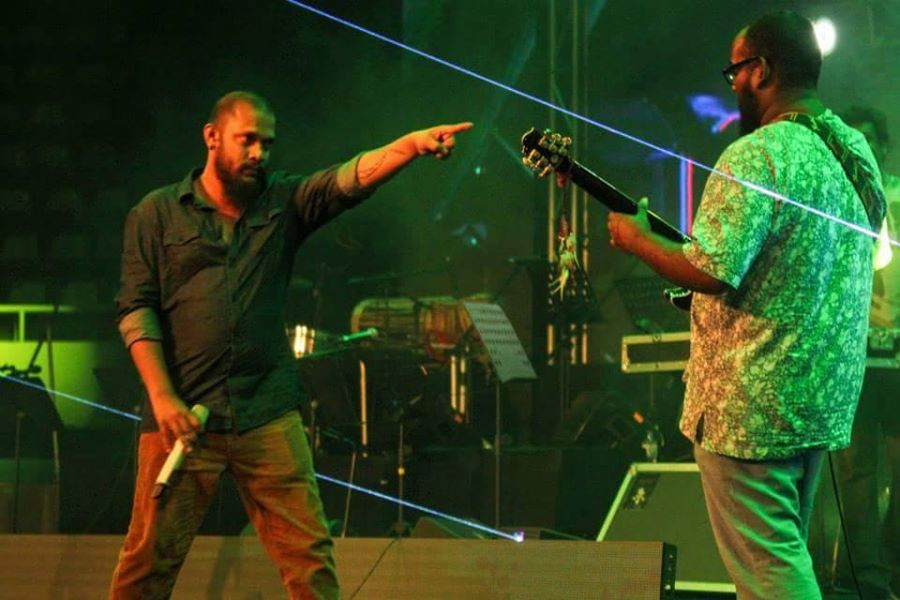 "Playing alongside iconic musicians was a true honor!" - Zayan
From then on, Zayan was a popular musician among the crowd. He played solo on various occasions and joined with different bands, and was invited to many more. He has been collaborating with the band Sacrament on an EP for quite some time now. Zayan also formed his own band along the way.
Zayan met Umar Althaf through mutual friends and they hit it off instantly. Zayan was already a fan of Umar since he saw Umar perform with Molecule Mouth in the Breakout Festival in 2008. They named their duo 'Navagrahas', roughly translating to Nine Planets in Sanskrit. Umar has been one of the biggest influencers in developing Zayan's skills with the strings. He has mentored Zayan's techniques and career growth throughout his journey. The band performed 2 gigs together and played with different artists from Sri Lanka. They were also joined by their friend Nabith who at the time was also making a name for himself in the Sri Lankan music scene. It is on hold for now given the situation as per Zayan but he wishes to revive it sometime in the future.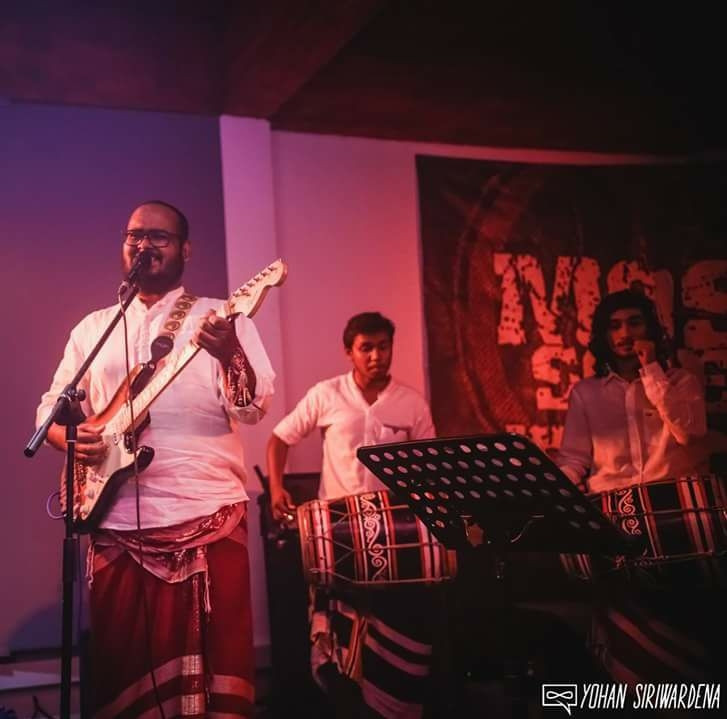 Did you know Zayan has impressive skills around a kitchen table too? He loves cooking and wanted to be a chef after he finished school. He deliberated on enrolling in a hotel school but plans changed and he got into Academy of Multimedia Design for his Diploma in Multimedia. Of course, all the music gigs and shows kept him occupied for long hours and it led to a hectic struggle with balancing both academic and music career. Side-tracking from his studies was disappointing his family so Zayan stepped up and managed to pass with good grades even though it took him extra years to graduate.
Time spent involved with the music scene in Sri Lanka were the best times of Zayan's life. Hype shows such as The Melomanic Sessions and The Rock 'N Roll Show are among highlights of over 100 gigs and shows Zayan had performed. Before Zayan left Sri Lanka, friends he played alongside participated with him participated in his last two gigs. Zayan wanted to thank his Sri Lankan community by bringing them a taste of Maldivian music and performed original Dhivehi songs with a hint of boduberu, and added an original of his own too. Like all his other performances, the audience showed love for his work when they bid him farewell.
"When people judge and pass comments, it becomes very challenging to try." - Zayan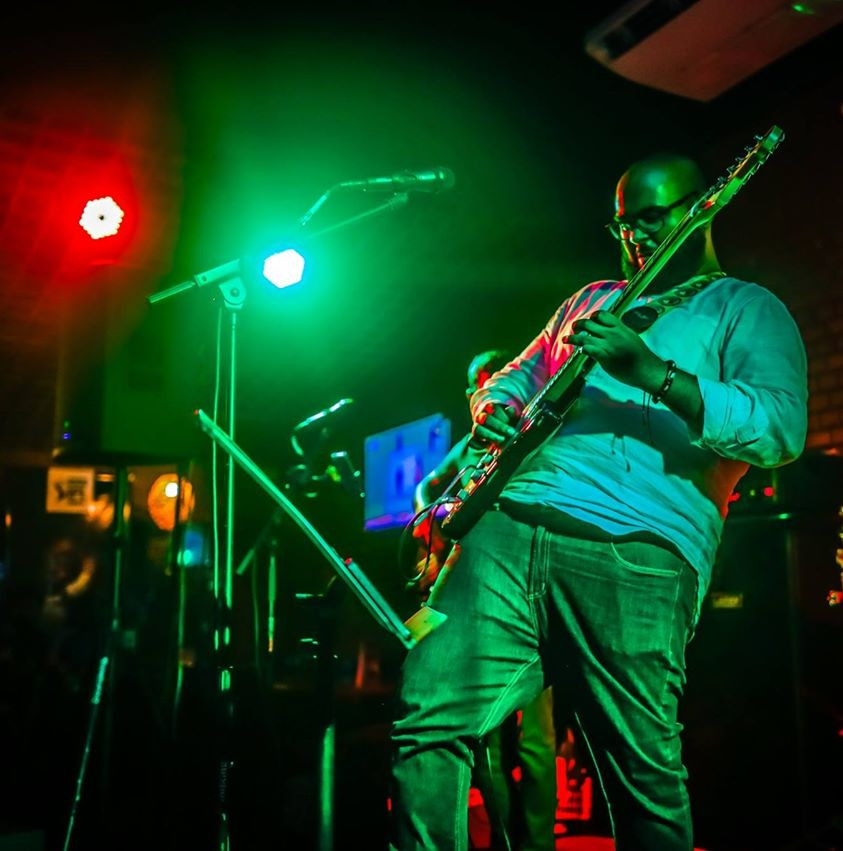 When Zayan moved back to Male' he was an experienced guitarist. You might think his path forward must have been easy given his success abroad but even Zayan hadn't imagined his struggles just beginning. Local music scene was as different as day and night in Malé from that in Sri Lanka. In his second home, Zayan was part of a welcoming community who pitched in to have a good time together on gigs and supported each other. Even though Maldivian musicians were ten times more talented, getting along with other musicians was a challenge in itself.
Zayan had his heart set on moving forward with his music career. He did well with multimedia but he knew that his chances were better as a musician because of at the end of the day, that is what excited him. A couple of months passed by with just occasional jamming sessions with friends. Zayan was hesitant to face negativity in the music scene which got into his head. He knew he had to get out there anyway and an opportunity knocked on his door at a gig in Jazz Café.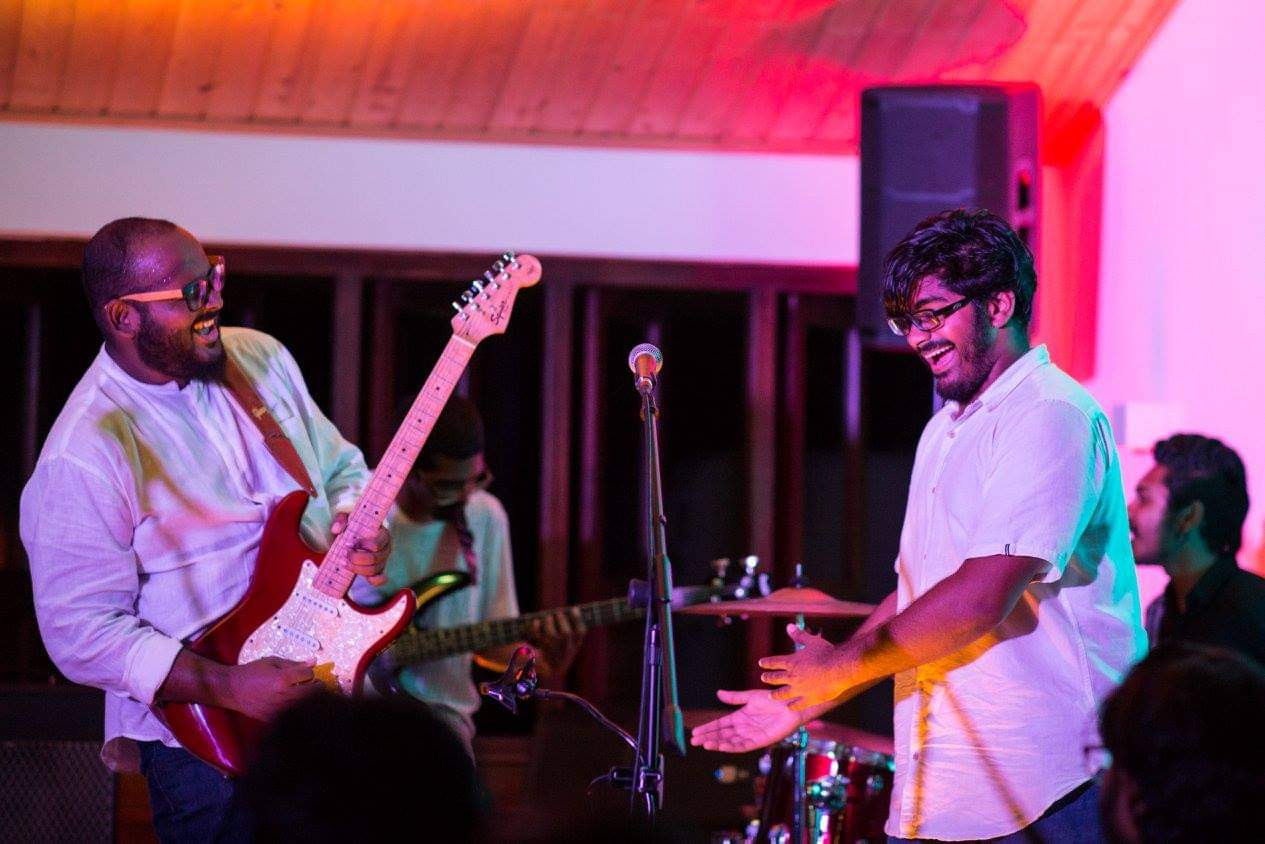 Yaathi reunited with Zayan when he was on a gig with Haffaf at Jazz Café. Haffaf is Zayan's best friend who helped him meet with fellow local musicians after he came back to Malé and Yaathi had been a long-time family friend. Zayan was delighted when Yaathi invited him to jam with his band, 7th Floor and Friends. In the session, Zayan was offered a chance to make his own line-up for the show Yaathi was organizing on the occasion of the anniversary of Jazz Café.
Back in Sri lanka, Zayan went by the name 'The Zed Project'. He wanted to keep his chances open to collaborate with other bands and he was in the same mindset when he formed the first lineup with Faffu, Inan, Hussen and Shafai for the show at Jazz Café. They were all childhood friends who kept in touch and jammed together often. Their performance caught the eye of the FnB Director for Dhigali Resort Pre-opening, who happened to be in the crowd that night. He was wooed into inviting them right after the gig to come perform at the resort for a trial. Zayan could not have been happier!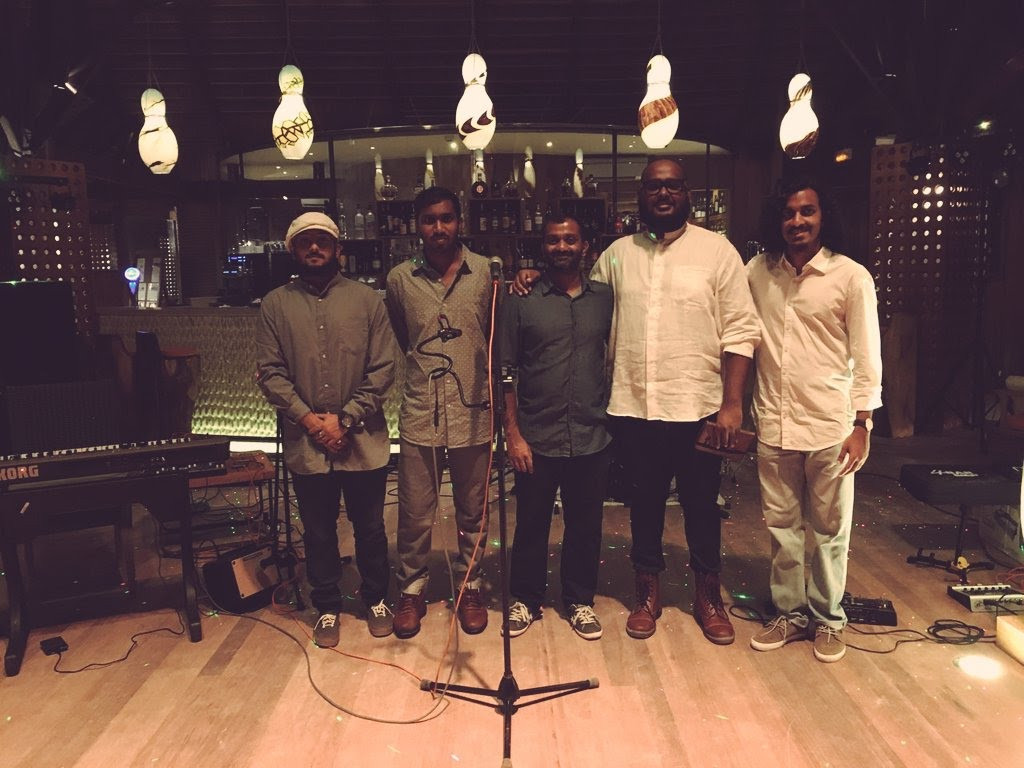 "Dream bigger. Music is not only resort gigs. More artists need to produce their own content in order to grow." - Zayan
This is the story of how Soulberry came into being. The initial lineup was rearranged with Thoo replacing Shafai. Soulberry successfully impressed the resort crew who keeps in touch to this day. Their support exposed the group to more opportunities in resort music, and Soulberry performed in various resorts for 2 years that followed. Zayan looks forward to the day when more resorts will be willing to give opportunities to young and passionate lineups which can be a major booster for the resort music sector in the Maldives.
Soulberry faced some internal conflicts and the band decided to part ways in early 2019. The break-up left Zayan jobless once again. Being unstable made him rethink his choices, even give a serious thought to make use of his Diploma but for Zayan, music was more than just a passion. He had invested into learning and growing his skill because he did not want to end his day unsatisfied with his work. If there is one thing Zayan could urge you to do, it would be to make choices that you won't regret. Be it cooking or designing or playing music, don't do it just because you were asked to find a job. What is the point of blindly following instructions if It doesn't let you grow and bring you happiness?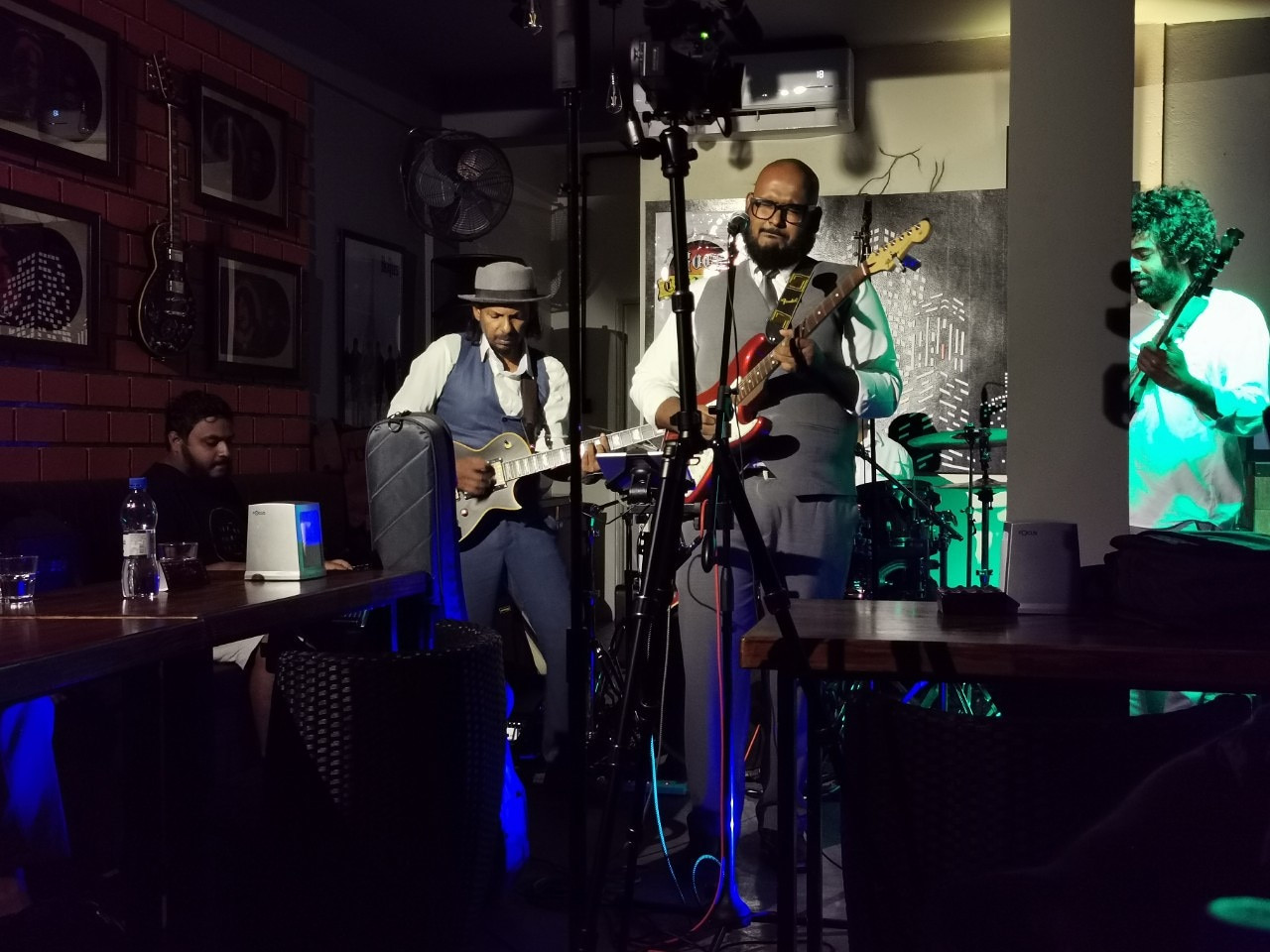 Had it not been for the trip to John Mayer Asia Tour Live in Bangkok 2019 a short while after, Zayan would have had a hard time finding motivation again. John Mayer is one of Zayan's favorite guitarists and the influence is evident in his playing. He enjoys exotic, melodic tunes and blues is his go-to genre. Zayan is a fan of many guitarists, and since he discovered BB King, it has been his everyday jam. No wonder the nickname 'Baby King' stuck!
"I listen to a lot of music and try to fuse the best into my own playing." - Zayan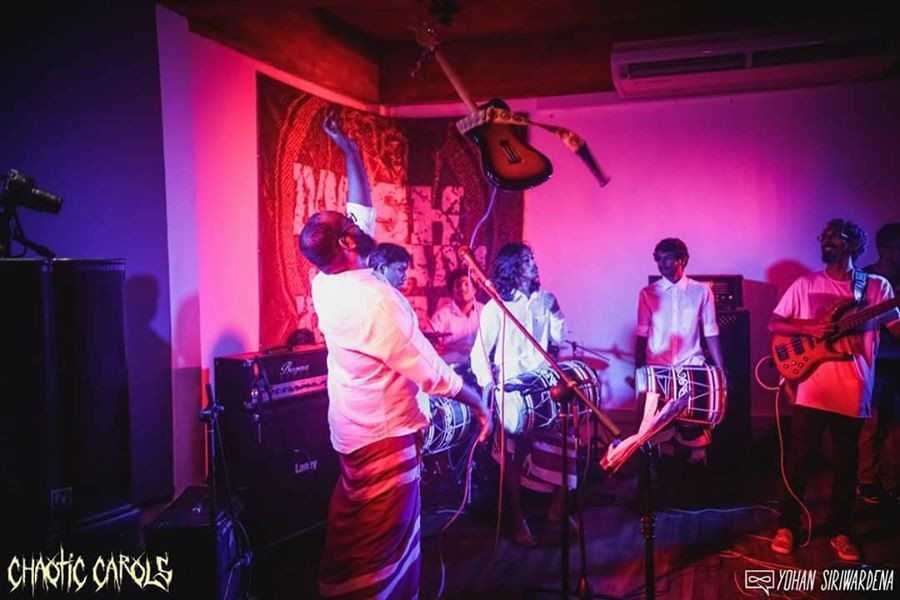 In a new found freedom, Zayan was exploring his guitar skills further after he upgraded his old guitar to a Chapman. This was finally his own to refine what he had learnt so far without having to borrow from anyone else. After the break, Zayan got back to playing with different bands. Some of his most notable gigs were with Equatic Vibe, The Kabaans Band and Shiuz. Zayan also made appearances in a number of local shows including The Gathering with Flaming Biskeemiya, and Fannu ge Dharin with various artists.
For months, Zayan was playing with random lineups when he came across an opportunity to play a show with Sky Rock band. The jam went exceptionally well and about a month after the show, Faizan and Mira asked Zayan to meet with them. It came as a surprise when they invited him to be a part of the band and Zayan immediately accepted the offer.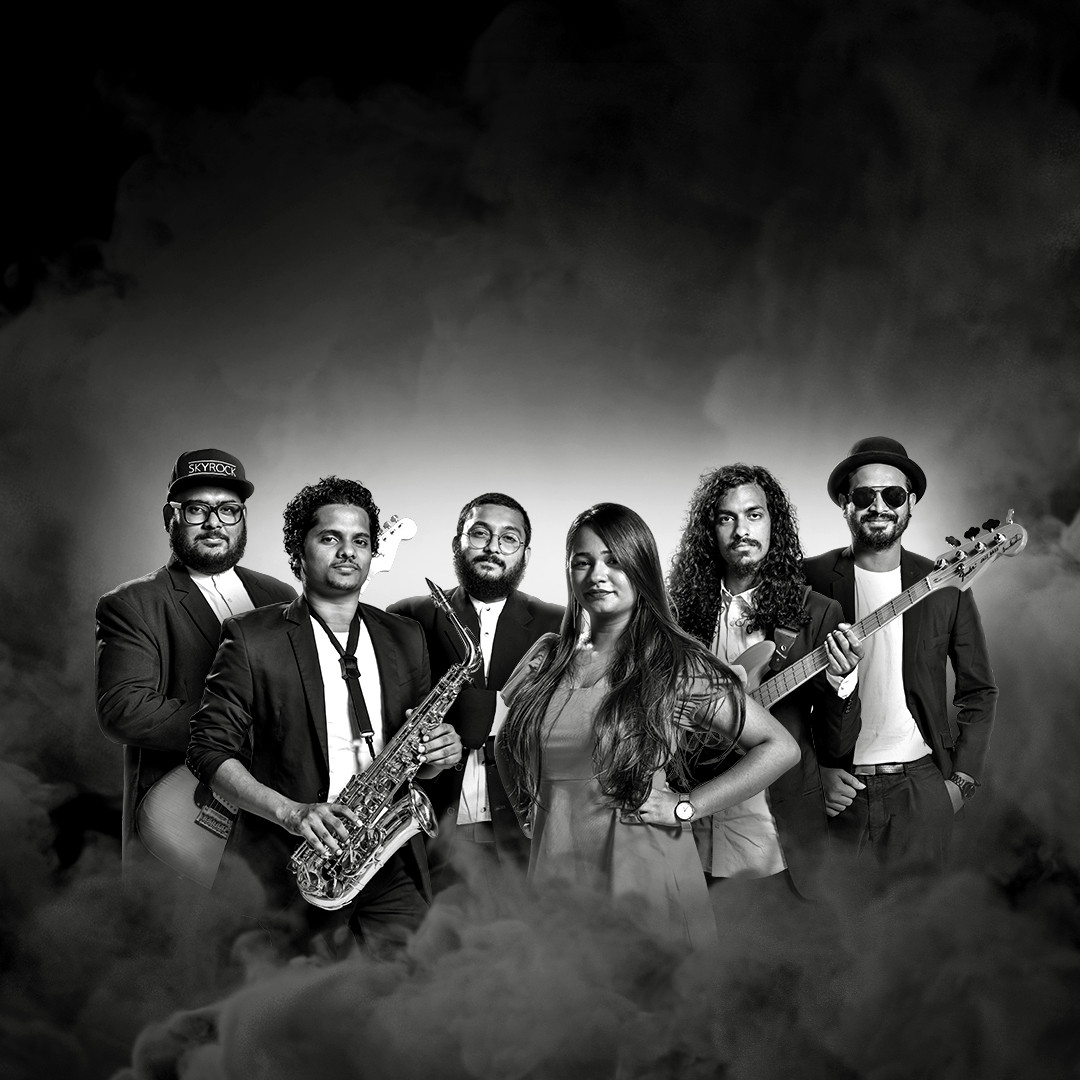 Sky Rock was an already well-established band when Zayan joined them. Having the same mindset to be independent with their skills as a band and as individuals, Zayan found it effortless to connect with the new lineup of the band. The guitar is his main instrument and every now and then, you can spot Zayan singing too. Ooredoo Color Run event is one of the most memorable shows Zayan played with Sky Rock. The band had big plans for the year when the pandemic hit.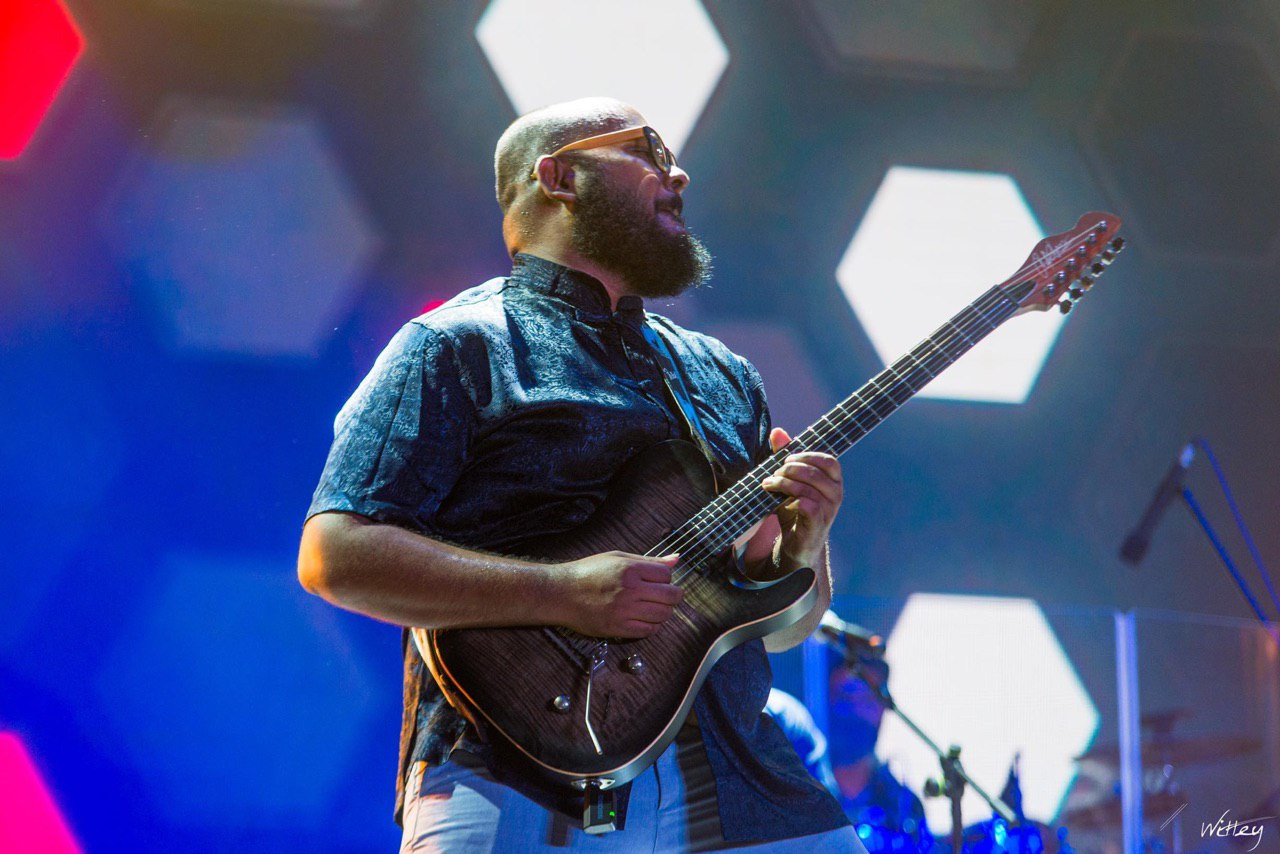 Those who were innovative found a way to stay afloat during the lockdown. Sky Rock recently released covers of popular Dhivehi songs they recorded during these times as teasers before their upcoming album in progress. Zayan is planning to work on his own album too by next year. He emphasized on it being original work, additionally sharing his concern for lack of originals in the local music industry.
"We need musicians to respect each other and be supportive, not judgemental." - Zayan
Having a career in music is bigger than just playing gigs in resorts. Musicians take a long time in their career before releasing any original material. Zayan agrees that a vibe of negativity makes new musicians hesitate to experiment outside of their comfort zones and it needs to change. It was difficult for him to go through the same challenges and the lack of opportunities is a major concern. However, dreaming big and breaking taboo of narrowminded, shortsighted thinking is what the local music industry needs.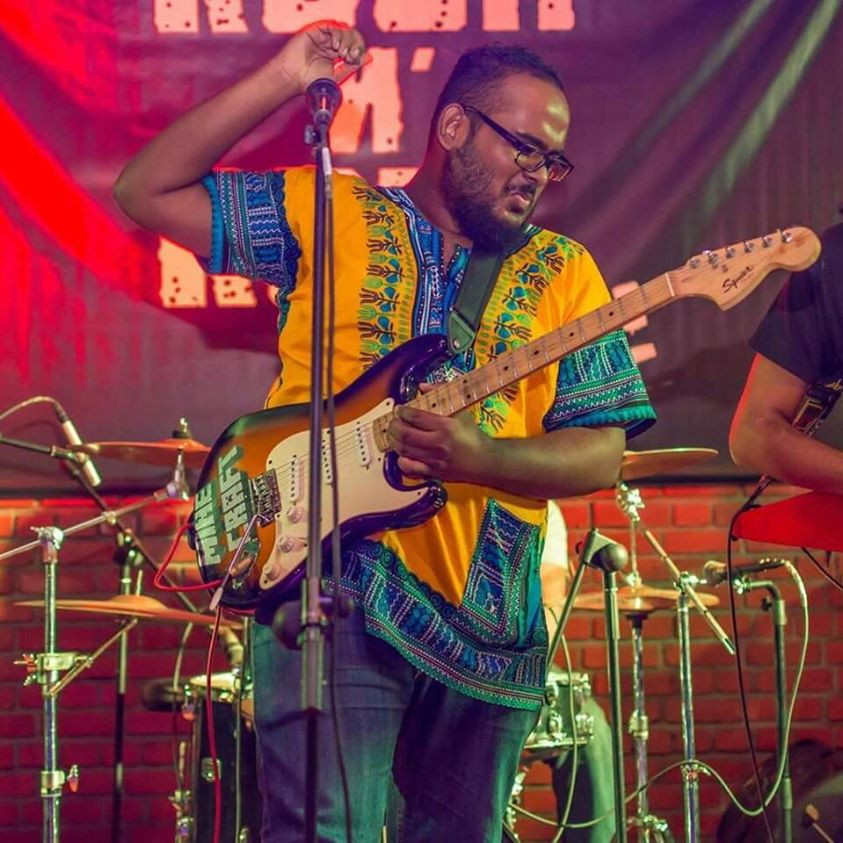 The music scene in Sri Lanka might be more hyped up, but Zayan believes that if local musicians can become supportive and respectful to each other instead of judgmental, even new-comers can shock the industry. It's a fact that most musicians playing do it as a hobby or on the side of a 9-5 job and the hectic daily routine drains the energy out hours before practice sessions start. Working hard for your passion can go a long way in pushing the industry forward together and Zayan is hopeful for productive change soon. He himself targets on improving his skills and play in a major music festival outside the continent someday.
Zayan is pursuing his passion without a doubt in his mind. Are you as passionately working on something you love?